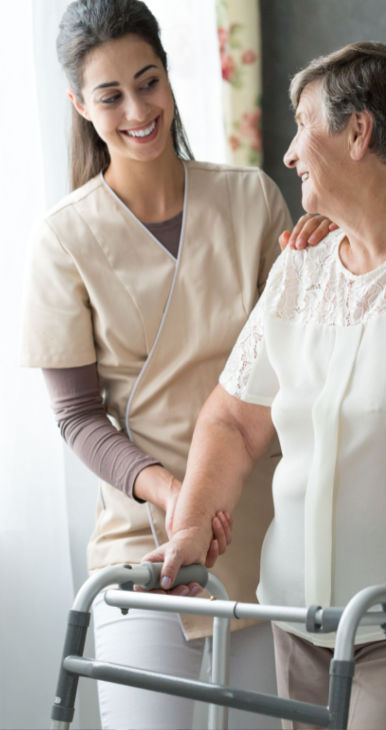 Providing You With Health Care At Home
---
We are committed to providing a level of quality professional care that encourages safety, patient autonomy, patient education, and nurturing, cost-effective service. Through coordination of community and agency resources we can decrease illness burden, thereby promoting positive patient outcomes.
How Does It Work? What Is The Procedure?
---
Whether you are a Medical Provider (Hospital, Rehabilitation Facility, Adult Living Facility, Insurance carrier, Doctor Office, etc…) or a private individual seeking Home Health services – we can help you!
Medical Facilities and Professionals
---
If you are a medical facility we encourage you to reach out to us and speak with our intake manager so we can schedule a chart review as well as a short interview with the patient. We will require a signed prescription referring the patient to Home Health specifying the needs of the patient and the diagnosis.
Private Pay
---
We will cater our services based on your needs with great attention to detail and comfort. We are here for you, 24/7, from our heart, right to yours! Whether you have long-term care insurance, other type of insurance or wish to hire our services on your own. You or a family member should call to discuss the specific situation and care needed. We always provide the highest level of care while maintaining the most competitive pricing in the industry, call at any time for a FREE evaluation.
Learn About Our Services
Frequently Asked Questions
---
Being in business 10+ years has given us the experience to know what you might be wondering about. Below is a detailed list of our most frequently asked questions with detailed answers.
On the first visit, a nurse or therapist will conduct an initial assessment. At Trust USA, this thorough interview and professional assessment is part of our coordinated approach to managing your overall health status. Our assessment focuses on identifying areas where you may benefit from education in self-care management and partners with your doctor to promote disease prevention, in addition, to providing hands-on intervention – which includes the family or caregivers.
This team approach helps to make the transition from a hospital or nursing facility to your home much easier, and actively engages you and your caregivers in your health care.
News & Articles
---
Here at Trust USA Home Health, we want to make sure our patients have access to the most useful and educational articles discussing a wide range of topics that might interest them.
---
Stay Up To Date
---
Trust USA Home Health wants to have detailed articles available for our patients that discuss a wide range of topics such as Diabetes, Healthy Diets, Medication Safety, Immunization Information and more. Please check out this section of our website for helpful information.
See All Articles